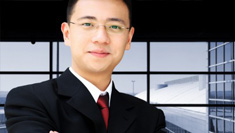 Financial Link Sdn. Bhd. is a place where talented people want to work, as we offer a unique and professional growth opportunity and a great work working environment with inspiring colleagues and clients.
Having said that, we invest significant resources in building collective knowledge and in developing individuals. We firmly believe in the talent of people as the foundation of a great organization. If you are looking forward to building a great career, we welcome you to join us.
Responsibilities:
Design and development of web application using preferred languages (JSP, Servlets, JQuery, Javascript)
Provide support to application users both internal and external
Pro-active to provide recommendations and solutions to improve use of technology for client's projects
Working closely with creative team and project management team to produce collaborative works.
To work with, seek out, and understand new technologies.
Requirements:
Minimum Bachelor Degree in Computer Science, Computer Engineering, Information Technology or equivalent.
Well-versed in current internet standards, including web browsers, web 2.0 technology and APIs
Proficient in HTML / CSS / Javascript, jQuery, Java programming
Knowledge on databases (MySQL, DB2 and Oracle). Excellent in SQL queries.
Excellent communication and documentation skills.
Must be creative, self-motivated and able to multi-task and work under tight deadlines.
Excellent team player with good interpersonal skills.
Experienced Candidates or Fresh Graduates are welcomed to apply. Candidates with relevant experience may be considered for senior positions.
Applicants should be Malaysian citizens or hold relevant residence status.
Responsibilities:
Provide solutions/work around to customers' issues.
Troubleshoot software/system related problems.
Provide excellent follow-up to reported issues/problems.
Requirements:
Candidate must possess at least a Diploma or Bachelor's Degree in Computer Science/Information Technology or equivalent.
Fresh Graduates are encouraged to apply, those with related working experience would be an added advantange.
Good analytical and troubleshooting skills.
Experience in Unix, Linux, IBM Websphere MQ, Web Applications, Java applications and Databases is an advantange.
Self-motivated and have excellent follow-through.
Excellent skill when dealing with customers.
Good working attitude and self driven personality.
Willing to work weekend shifts.
Able to travel with own transportation.